Mindful wanders
Guided walks for wellbeing in la Alpujarra
Neuroscience tells us that our nervous system settles when we hear birdsong, watch the sunset or walk slowly and mindfully in nature. We know walking is good for us, but often our responsibilities and relentlessly-rambling minds prevent us from inhabiting fully our surroundings and surrendering deeply to the nourishment of the natural world. The constant mis-match between modern life and our ancient neurobiology can leave us over-stimulated, overwhelmed and depleted.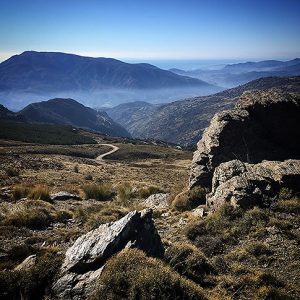 Using a combination of movement, sensory awareness and nature-based mindfulness, we can begin to orientate ourselves back to ourselves and find our way back home here, amongst the beauty of the natural world.
Our Mindful Wander begins in the Sierra Nevada national park above Soportújar. The walk is gently shaded and level so very accessible for those comfortable to walk a couple of kilometres on mainly flat ground. There are a couple of stops along the way and wanderers are encouraged to walk at their own pace. Groups are kept small so as to move with minimal disruption to plants and more than human beings. I ask that you don't bring animals or small children so you are not distracted from your own experience. This route is suitable for those with a basic level of fitness, but if you are in any doubt, please contact me. We meet at la Ermita del Padre Eterno at 10:00 am to then car-share our way up the track for a 10:30 am start – arriving back at around 1:30 pm. Places are limited so must be booked in advance.
Please note, these walks are intended to cultivate the practice of nature connection rather than nature education. If you are interested in learning more specifically about plant identification and what you might forage nearby contact me as there are an array of amazing naturalists and herbalists also living in the area.
Walks last for approximately two and a half hours and cost 10€ per person (ethical non-financial exchange also possible). Before the walk you'll receive an email with full details including what to wear and bring.
I bring my experience as a teacher, therapist and mentor alongside a curiosity for wild foods and medicines. I am a lifetime explorer of inner and outer realms who's wandered wild across many continents until now making my home here in la Alpujarra.
Next wandering
04 Nov 22
Sierra Nevada, Granada, Spain
Book